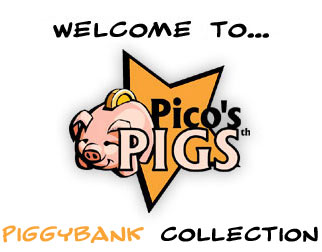 Welcome !!!



Welcome on my Piggy-web-site, the result of years of patient and adventurous research around the world. What you will find in these pages, carefully illustrated with pictures and descriptions, started in 1991, almost by chance.

But it is only now, after several years, that I took the decision to order and classify all my pigs, grouping them by categories, when possible, and indicating number, material, place of "birth" and date of acquisition for each one of them.

This is also my way of thanking all the people that helped me all though these years to build this collection: relatives, friends and colleagues that from every corner of the world carried (not without difficulties) home piggy banks for me!

There are also people that have done even more, making piggy banks with their own hands, thus creating unique pieces, just for my collection!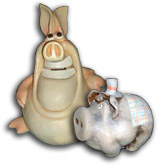 I hope you will enjoy in choosing the funniest of the most particular piece and by the several fellow-collectioners I hope to receive great help: Until a few years ago I believed to be a rather unique and crazy case, but later, thanks to Internet, I realized that there is a lot of competition in this area! You will be a precious source of clarifications, suggestions and information, more then welcome to one like me that wishes to continue in "her expansion campaign".

Have fun!!!